Browse Categories
Subscribe

Get email updates on new products
Contact us

Shenzhen Time In Top Technology Co., Ltd
Address: Rms. 2602, International Science & Technology Building,
3007 Shennan Rd., Futian, Shenzhen 518000, China
Tel: +86-755-83686434 +86-755-83664959
Fax: +86-755-83686440
E-mail: support@rrdn.netContact Now
Panasonic LB-SC9 Optical Disc Magazine Drive
Applicable: OS Windows® 7 / Windows® 8.1 / Windows® 10, Windows® Server 2012 R2
Dimensions:(width×height ×depth) 68.5 mm × 170.0 mm (including the projecting parts) × 278.0 mm (excluding the projecting parts)
Weight:Approx. 1.8 kg (excluding Magazine and AC Adaptor)
Power Supply: DC 16 V
Host Interface: USB 3.0
Usable Magazines: 1.2-TB/600-GB BD-R Magazine, 600-GB BD-RE Magazine
Data Transfer Rate: Max. 18 MB/s (using a BD-R Magazine), Max. 9 MB/s (using a BD-RE Magazine)
Operating Environment: Temperature: 10 to 40°C (within a gradient of 10°C/h), Humidity: 20 to 80% RH (no condensation)
Accessories: 600-GB BD-R Magazine, Dedicated USB Cable, AC Ad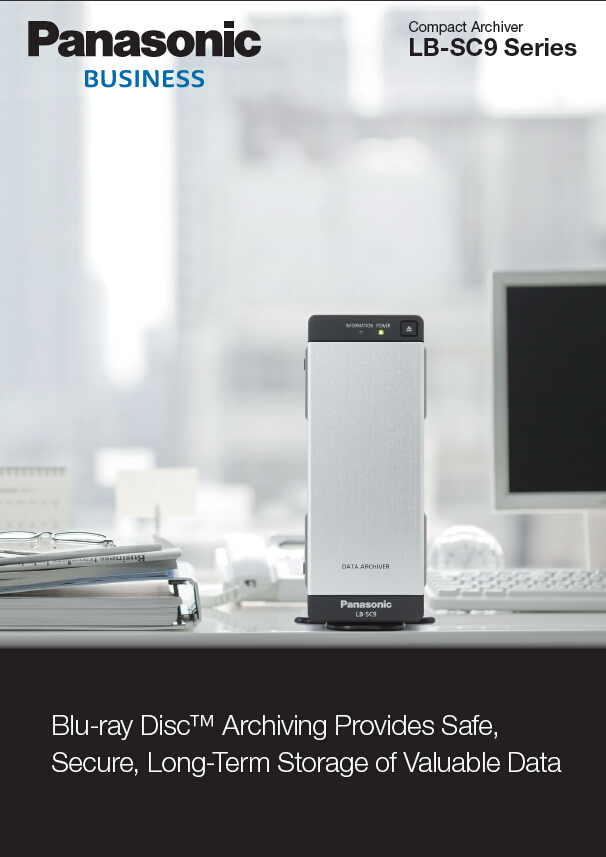 Ideal for Long-Term Storage

Magazine holds 12 Blu-ray Disc™ media (BD-R/BD-RE). The disc surface is protected from fingerprints and scratches to provide high, long-term reliability.
The Blu-ray Disc™ for archive use has a data storage life of more than 50 years.
** Estimated value under 30°C and 70% RH, based on accelerated tests conducted by Panasonic. Note that it is not a guaranteed value.
Easy, Desktop Operation

Easy setup. Simply connect to a PC with the USB Cable and install the driver software (from the enclosed DVD), for immediate use.Driver software enables you to display files that were written over or deleted.Lightweight (1.8 kg*) and compact. Capable of desktop installation and operation.
* Not including the Magazine and AC Adaptor.
Meeting Your Application and Capacity Needs

Three Data Archiver Magazines are available: Recordable BD-R (1.2 TB/600 GB) and Rewritable BD-RE (600 GB). Select the one that meets your application and capacity needs.The Data Archiver Magazine can be taken out from the front of the unit for easy replacement. This allows convenient shelf storage. Installation of the integrated file management app "CA Finder"* allows data to be searched from all of the magazines stored on a shelf.
* It may not be available in some countries or regions.
Applicable OS
Windows® 7 / Windows® 8.1 / Windows® 10, Windows® Server 2012 R2
Dimensions
(width×height ×depth)
68.5 mm × 170.0 mm (including the projecting parts) × 278.0 mm (excluding the projecting parts)
Weight
Approx. 1.8 kg (excluding Magazine and AC Adaptor)
Power Supply
DC 16 V
Host Interface
USB 3.0
Usable Magazines
1.2-TB/600-GB BD-R Magazine, 600-GB BD-RE Magazine
Data Transfer Rate
Max. 18 MB/s (using a BD-R Magazine), Max. 9 MB/s (using a BD-RE Magazine)
Operating Environment
Temperature: 10 to 40°C (within a gradient of 10°C/h), Humidity: 20 to 80% RH (no condensation)
Accessories
600-GB BD-R Magazine, Dedicated USB Cable, AC Adaptor (100 to 240 V compatibility), AC Cable, Pedestal, DVD
For Backup Use
The data from the server, which consists of the data from each PC, is backed up in bulk on the LB-SC9 using the Rewritable BD-RE Magazine. This is ideal as a backup application for daily data. When the storage capacity is filled, the Magazine is taken out and placed on a shelf. (Exchange the data between a server and the LB-SC9.)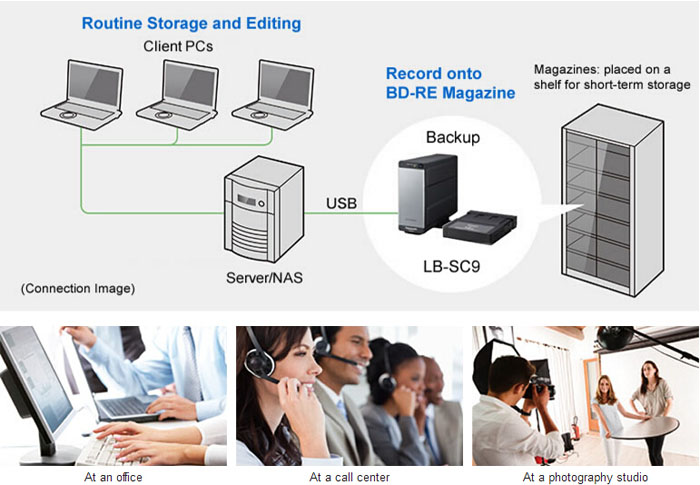 For Archive Use

Various types of data for each job or project are collected on the LB-SC9, and then stored on a Recordable BD-R Magazine.Managing the Magazines on shelves keeps them neat and clean, which is helpful for long-term archiving.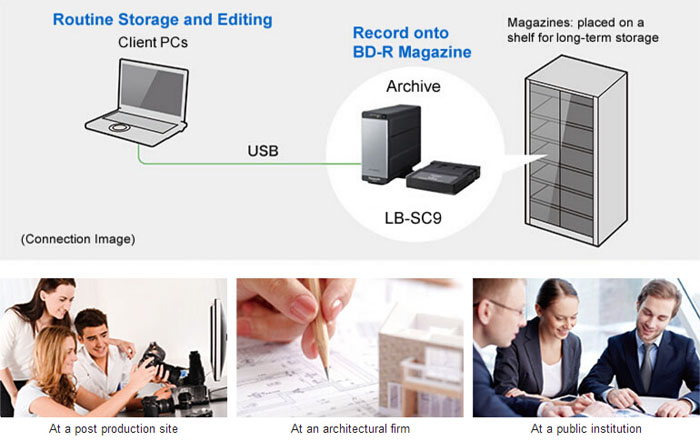 Other Products